Sat.Mar 18, 2017 - Fri.Mar 24, 2017
Doing More With The Classroom Makerspace
The Web20Classroom
MARCH 19, 2017
When I was 6 or 7 years old I was at home on a boring rainy weekend. Being an inquisitive kid and generally looking for mischief I found some tools in a closet and decided something in my house needed taking a apart.
Creating Control: Managing Bullying in the Classroom
EdNews Daily
MARCH 24, 2017
One of every four students reports being bullied during the school year, according to the National Bullying Prevention Center. Bullying in the classroom has always been a problem, and educators are now taking bullying seriously.
Formative Assessment Tools and Tips from Monica Burns #FormativeTech
The CoolCatTeacher
MARCH 21, 2017
Episode 37 of The 10-Minute Teacher Podcast From the Cool Cat Teacher Blog by Vicki Davis Follow @coolcatteacher on Twitter. Monica Burns, author of #FormativeTech , shares essential tools and tips for effective formative assessment. Learn how to get results. Pick some tools. Accelerate learning.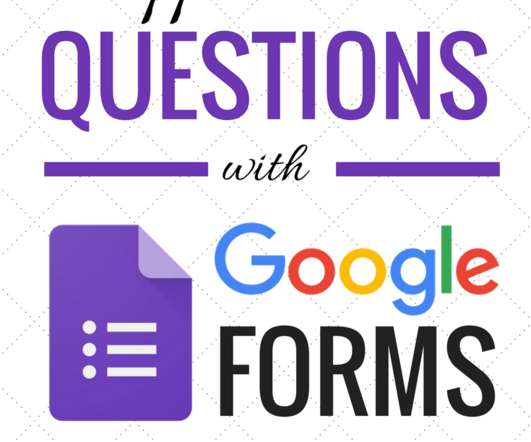 How to Differentiate Questions with Google Forms
Shake Up Learning
MARCH 19, 2017
The post How to Differentiate Questions with Google Forms appeared first on Shake Up Learning. Shut the Front Door (Again)! Updated Differentiation with Google Forms! UPDATED March 2017! There are so many amazing things we can do with Google Forms.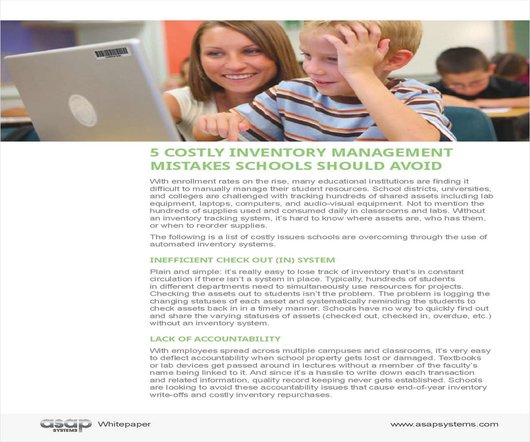 5 Costly Inventory Management Mistakes Schools Should Avoid
Advertisement
If your school is like most, inventory and/or asset management plays a critical role in daily operations.

More Trending